You love to travel, right? If so, that does not necessarily make you a traveler. You might be a tourist, depending upon a lot of factors. Similarly, for all those who use "traveler" as an alternate term for "tourist", it may seem like splitting hairs but there are some differences between both, with some of the major ones outlined below. So, if you fancy yourself as a traveler or tourist, here's how to find out if your idea is actually true.
1. Standing out or Blending in?
Selfie sticks, slow walk on the sidewalk clocking the way holding a map and overly stuffed pockets/sling bags, we are all familiar with such scenarios. Such people usually tend to stand out like a sore thumb, catching (sometimes unwanted) attention, of the locals around them.
Where a tourist tends to behave differently than the locals, a traveler tends to blend in and interact more with the locals, not only verbally but also with the way they are dressed and adhering to the social norms of that particular place. They roam around freely, with no fear of getting lost or walking alone.
2. McDonalds or Local Eatery?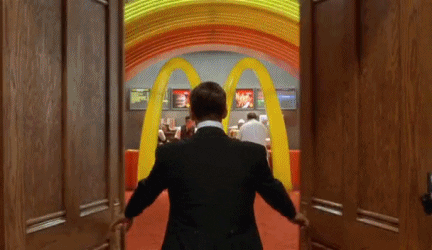 You feel homesick, it is what no one can help, but do you make it a point to eat at the nearby McDonalds or Starbucks?
A traveler would be more interested in trying out the local eateries and the usual street food in order to feel the true essence of living like a local. He would try out new dishes instead of the comfort food and appreciate the traditional cuisine, since a traveler knows how closely food is linked to the local culture.
In contrast, a tourist would stick to the kind of food he is familiar with, which would sometimes include popular food chains.
3. Is Solo Travel Your Thing?
Courtesy: Rida Khan
Do you prefer traveling in a group or alone? A traveler can travel alone without any fears in order to collect stories and make friends not belonging to his race or creed. Whereas, if you prefer to have a fun time with your own group of friends at a vacation, you are a tourist who just wants to have fun and make the best memories with the ones you love hanging out with!
4. Sight-seeing only?
Do you tend to stick to sightseeing, involving the famous tourist spots only? A tourist would make sure he visits all the popular sightseeing spots and come back. A traveler would not prefer interacting with the locals much, instead, he would be more interested in relaxing at a lavish hotel room, away from the hubbub of the city.
A traveler, on the other hand, would prefer talking to the locals, building his network and staying in touch with them, learning more about their language, values and lifestyle. Travelers are looking for stories and experiences of a particular place they visit, exploring the best of the destination with the locals and getting out of their comfort zone.
5. Five Star Hotel or a regular place to stay?
Is a five star hotel with a lavish suite, spa, swimming pool, gym and room service your thing? If so, you are a tourist who travels to relieve his stress and relax all by himself.
A traveler, in contrast, prefers to stay at a regular place, maybe a hostel or a small room at some apartment because exploring the city is more what he is looking for, then a vacation or holiday to get out of his regular routine.
Where a tourist stays like a foreigner, a traveler tries to make the place feel like a home away from home.
6. Prefer to stick by the travel plan?
Do you enjoy following your own travel plan or are open to discover new places and get lost in the streets?
A tourist would be happy to travel by his plan and will not be open to changes. A thoroughly organized travel plan is what a tourist would prefer. However, a traveler would plan the major things only prior to traveling, such as accommodation. The rest will be a blank page, open to local suggestions and mood.
7. Love to Learn a Foreign Language?
If you love learning a new language and try to know at least a few fragments of the language of the particular place, you are definitely a traveler. A tourist prefers using a translator and stays comfortable speaking his own dialect whereas, a traveler is equally enthusiastic about learning the local language as speaking his own.
8. Do you shop?
If you shop from global chains such as Next, Gap or Adidas for yourself and your loved ones while on a trip, you are definitely a tourist. Usually, travelers look for something special, maybe a unique rock while trekking or a souvenir which reminds them of their memories. A tourist, on the other hand, would shop for the usual things, jewelry, clothes etc. from sale promotions.
So, what are you, traveler or a tourist? You can be a mix of both as well, but nevertheless, you love to travel, which is a quality in itself. So get out there, get rid of the usual monotonous routine and overcome your fears to travel and experience life from a different perspective!